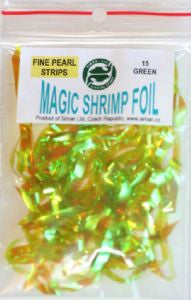 Jan Siman Magic Shrimp Pearl Fine Strips - Green
This is the stuff I like to use for many of my Czech nymphs on the shell-back, on its own or over another colour below, changes colour in the water and looks superb. If you stretch it a bit and pull it it changed colour a bit also to a more blue/pearl. Awesome stuff.
Loads per packet to make many flies, very good value for money and pre-cut to a good width.