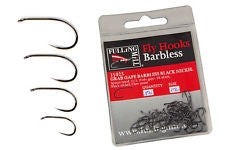 Fulling Mill Barbless Grab Gape Bronze (35020)
Fulling Mill grab gape, can be used for Wets, Nymphs, Dries and Still-water Patterns. 
These are slighter lighter wire than the Champ hooks, but they are great for both rivers and stillwaters.
Strong and sharp and good value with 50 hooks per packet.